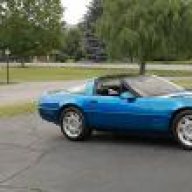 Joined

Dec 26, 2002
Messages

105
Location
Corvette

1991 Blue Coupe
Well, I have missed out on a couple of beautiful 70 - 75 degree days here in VA and I could have been out cruising with my tee-tops off, but I am getting closer !! Progress has not moved as fast as I had wished in the last month. Things like work travel, yard work (spreading 10 cu yds of mulch), family parties and required get-togethers, and playing allot of golf have all got in the way!! I am OK with the last item !!

The engine is back in the car and I was hoping to crank her up last weekend. One of those little problems crept up, my son dropped the engine mounting bolt down my exhaust pipe. So after getting the whole neighborhood involved in the rescue effort with fabulous ideas and a couple of science projects (elctro-magntizing the pipe !?), I disconnected my exhaust on the discharge side of catalytic converter and dragged it out into the driveway and dumped out the bolt !! Of course this now created 4 more hours of work, cleaning this piece of exhaust pipe, wire brushing and spraying it down with high temp silver paint.

Here is the pic of the engine going back in. She will be running this weekend !!! Unless I get an golf invite that I can't refuse !!