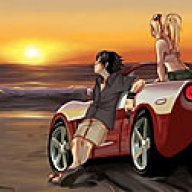 Site Administrator
Staff member
Administrator
Joined

Sep 16, 2000
Messages

13,915
Location
Corvette

1990 Corvette ZR-1
ZR1 Corvette: Performance, Little Else
Is 638 horsepower enough to justify a six-figure sticker
By JEFF SABATINI, Wall Street Journal
How can a 638-horsepower sports car be anything but fun? Like jumping out of an airplane or diving off a cliff, the 2009 Chevrolet Corvette ZR1 is bound to put a smile on your face -- just don't think about it too much.
While this newest, fastest-ever Corvette's 6.2-liter, supercharged V8 doesn't cause quite as rapid acceleration as gravity, it's pretty close. Road & Track magazine tested the ZR1 at 3.3 seconds from 0-60, this on the way up to the car's 205-miles-per-hour top speed. That's about as fast as you're going to go in a mainstream-production automobile unless you drive it off a very tall parking structure.
Indeed, the cars that can run with a ZR1 make up a small group of righteously expensive machines, supercars like the Lamborghini Gallardo LP560-4 and Ferrari 599 GTB. This is where GM claims its advantage, because the base sticker price for the ZR1 is a paltry $106,520 including destination and gas-guzzler tax, compared to about $200,000 for the Lambo and $280,000 for the Ferrari. So the ZR1 offers impressive and comparatively cheap performance, just like every other Corvette, from the basic $50,000 coupe to the previous top-of-the-line model, the $75,000 Z06. This is all fine and well, I suppose, but when you're selling a car for six figures I'm not so sure "low prices, always" is really the best approach.
But it's clearly the one that GM has followed here, as outside of its awesome performance, the ne plus ultra 'Vette is substandard.
It's unfortunate that a car company that can produce such an exceptional piece of engineering -- from its hand-built motor to its lightweight, carbon-fiber-intensive body -- would fail to outfit the rest of the car to match.
Where to start? How about the steering wheel, your most important point of contact with the ZR1? It's a big, ugly, rubbery piece of junk that's nearly identical to the one in the $16,000 Chevrolet Cobalt economy car. GM has done this before -- when it infamously used a Chevy Vega steering wheel in the 1976 Corvette. It would have been neither difficult nor expensive for GM to put a decent sport steering wheel in the ZR1: The previous generation Subaru Impreza WRX, a sub-$30,000 car, had a custom wheel designed by racing-equipment supplier Momo.
Another area where a small percentage increase in price could have provided an untold improvement in the end-user experience is in the seating. The ZR1 seats are not bad, but they lack lateral support, especially when taking into account how much grip the car has in cornering. (Road & Track recorded 1.1 g on its skidpad; I managed a few ticks under a g on the street according to the ZR1's head-up display.) On a car like this, better, racing-inspired seats should at least be available as an option.
But seats aren't on the ZR1 option list, which is conspicuously short at just two. The first is a $2,000 set of chromed wheels, which only raises the likelihood that you will be pulled over by the police. The second option is the so-called luxury package, $11,700 worth of proof that GM knows little about building six-figure cars. The tacky leather-wrapped instrument panel that's the biggest part of this pricey package is a joke -- footballs are softer and more fetching to the eye.
Then there's the navigation system, which is shoddy enough that you wonder if GM picked up a few thousand of them from a seller on eBay. GM offers a nearly perfect nav system in other models including the Cadillac CTS, but this is not that one. With a tiny 6.5-inch screen and a plodding interface, the unit is frustrating to use, all the more so because nav-equipped ZR1's lose the standard stereo system's auxiliary audio-input jack, meaning you can leave your iPod at home. That any carmaker would sell a car for this kind of cash in this day and age without iPod connectivity is preposterous.
But this is GM and the Corvette. A confused company today, even at its peak GM didn't quite know what to do with this model that's so different from anything else that rolls off its assembly lines. Since its inception in 1953, the Corvette has always been a few steps ahead of the competition in many ways, while remaining decidedly behind in others. Why should this ultimate Corvette be any different?
Write to Jeff Sabatini at
jeff.sabatini@wsj.com