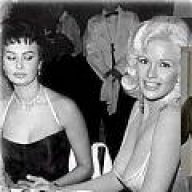 Joined

Jul 6, 2004
Messages

1,171
Location
Corvette

65 SB Roadster, 66 BB Coupe
well, i'll make this short because Mark will add a lot of "value" to this thread
today, we fired up the small block...it did start....finally
i figured Mark would be here form 10-lunchtime, so i could feed him from F&M Deli and thank him for his help
it took 5 hours
the littany of problems started with ONE wire connected incorrectly which probably fried the MSD Boost Timing Master...took Mark (not me) HOURS to track that one down...he is REALLY great with this stuff...so, we bypassed the BTM and ran it directly off the MSD 6 box and it fired up...at which point the alternator belt cut through the heater hose AND the alternator fan chewed through the wires going to the alternator;help
...then, the throttle linkage kept binding so i could only run it at fast idle..at which point i realized that my electric radiator fan no longer worked and i shut it down and mark and i pushed it back into the garage...
BUT IT DID RUN!!!!!...i had never put new heads on an engine before and the valves were pretty well adjusted...surprised me.....but we did NOT power up the blower...NOW, i have a lot of re-wiring to do..
..as Mark said, the worst thing is that we had the car out on the driveway and it was a beautiful day at the beach so passersby kept buggin the **** out of us...two examples follows.....
we are both bent over the engine, wires all over the place, me swearing like a stevedore...two guys come up and say "nice car"...i reply "thanks" and don't look up from the spaghetti...one guy continues and says "what year?" and i say, without looking up "today is not a good day, tomorrow would be better"...he comes closer and says "can i see the engine?"...i say
"TODAY IS NOT A GOOD DAY, TOMORROW WOULD BE BETTER"
...have no idea what happened to them since i had just drained my bottle of Xanax.....

....then, my idiot neighbor's buddy stops his car in the middle of the street and saunters over, doesn't introduce himself (I look at Mark wondering WTF is this guy?) and he says, "you know, you should use starting fluid"....both me and Mark calmly say
"WE HAVE NO SPARK!!!!"
....not sure what happened to him either

next time, i'm keping the garage door closed:eyerole