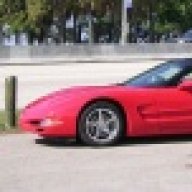 Joined

Jun 8, 2006
Messages

37
Location
Corvette

04 Torch Red Convertible w Black Rag Top & 6 speed
I am fast approaching 15,000 miles on my 2004 C5. According to my manual the 15k scheduled maintenance includes basically an oil/filter change with a few items checked. So today I called my dealer and their 15,000 mile service is $329 and in addition to what the manual recomends they clean the injectors, throtle body, and add a couple of chemicals to the gas tank as well as some cleaning of the combustion chambers :eyerole .

It sounds to me like a bunch of fancy name calling to charge me $329 for an oil/filter change. Do you all think this is worth it? Or should I just do the oil/filter change as planned?

FYI, I bought this vette in 1/2005 and I have changed the oil/filter four (4) times (every 6 months) this would be my fifth oil/filter change. Furthermore late last summer I replaced and flushed the brake fluid and did a flush/replacement of the radiator coolant.

Thanks.