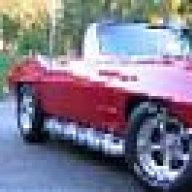 Joined

Apr 22, 2005
Messages

13
Location
Corvette

1964 Riverside Red
I have a 66 Chevy 283 engine in my 64. Last owner added Edelbrock Performance Plus Cam with Duration 278/ 288, Lift .420/ .442. EdelBrock Performer RPM Cylinder heads - Aluminum, 70cc Chamber, 170cc Intake, roller rockers, MSD 6200 ignition control, Edelbrock Performer dual plane intake manifold, and Edelbrock Performer Carb @ 600cfm. I have adjusted the timing several times between 6-10 degrees advance. The thing runs fine but has no torque on the low end. I couldn't smoke the tires unless I used a blow torch!

I figure the static compression is well below 8:1. I want to improve the low end the cheapest way possible short of dropping in a 350. Do I change the heads, the cam or both?

It also has posi and the original M20 4 speed. Any comments on how I get more out of the low end?