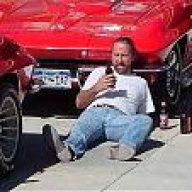 Joined

Feb 15, 2003
Messages

209
Location
Corvette

64 Black Roadster; 85 Coupe; 09 G8 GT 4-door Vette
The results from the dyno testing of a 350-based 383 small block are in – the engine is still warm from the dyno runs…
Here's what we tested:
GM 350 block .030" over (oil pan rails notched) with an Eagle stroker crank making 383 cubic inches

Eagle "H" beam rods with flat top JE Sportsman pistons

Full- length Diamond Stripped Windage Tray in a Moroso baffled oil pan

RHS Iron Heads, 200cc intake runners, 64cc Chambers

10.3:1 Compression with thick head gaskets

CompCams XR276HR Hydraulic Roller cam

CompCams Extreme Energy 1.6:1 Roller Rockers

Edelbrock Performer EPS Intake Manifold (so it will fit under a stock 'Vette hood)

Barry Grant "Speed Demon" 750 mechanical secondary carb

HEI Tach Drive distributor with 2500 rpm advance curve and vacuum advance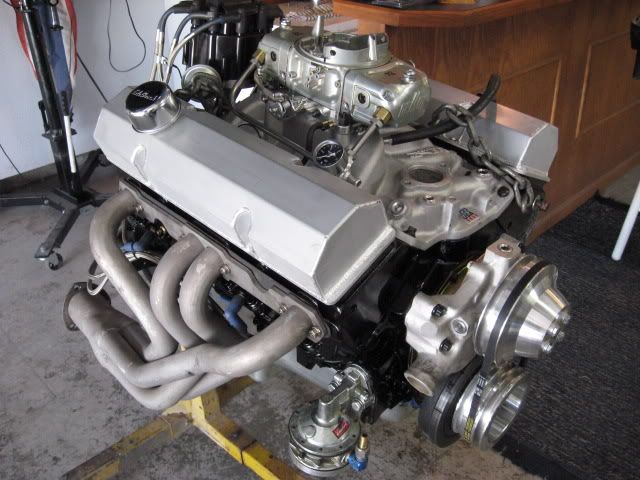 Intent with the dyno runs was to compare total timing settings, jetting (air/fuel ratio), with and without a 1" open carb spacer, and compare 1-5/8" headers versus 1-7/8" headers on this mild street engine. The engine idles at 850 rpm, and feels smooth…
Here's the setup on the dyno and ready to run: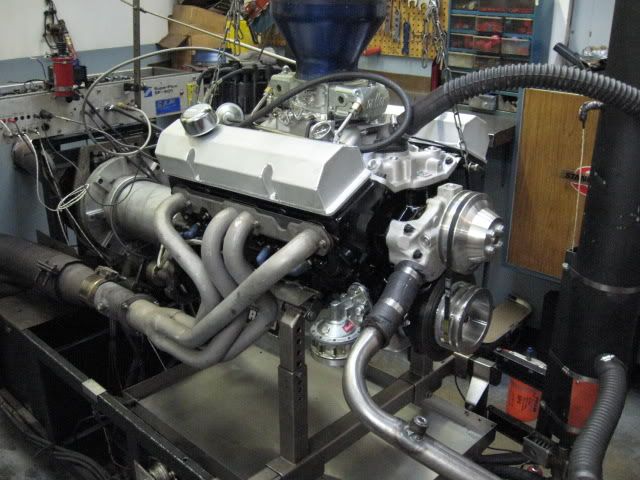 First Configuration:
As-Built with no carb spacer, 1-5/8" headers, 36 degrees total timing, and carb jetted 2 sizes richer than stock on both ends:
In this configuration we pulled it as-configured, then retarded timing to 34 and 32 degrees: My experience is that these heads will produce more power with a little less timing. Not true in this case: The engine lost torque and power across the range as timing was retarded. Best numbers were achieved with 38 degrees total. My 2-jet increase also turned out to be a wrong guess, and a return to stock jetting turned out to be the sweet spot. I picked some random rpm points to post here to limit the amount of typing I have to do for this post - the peak numbers obtained are at the bottom of each table:
Rpm Torque HP
3000 410 234
4000 435 331
5000 409 390
5400 385 396
BEST 445 397
Second Configuration:
For the next configuration, we added a 1" open carb spacer. The EPS intake is a very conservative intake, and does not perform well at higher rpm – it is pretty restrictive. So I thought an open spacer to give it some plenum volume would help it. The first pull with the spacer showed that the engine went a full point lean, and dropped off massively in power and torque across the range. Fattening the carb up to the same A/F numbers as the previous configuration brought back a lot of the numbers, but the engine was down slightly at every rpm point. The manifold's restrictions are not in its plenum volume, but in the runner design: no amount of plenum will make up for the low-rpm runners in this manifold. Lesson: If you install a spacer, you have to richen up the carb about 4 jet sizes. A spacer will not improve performance on a low-performance intake manifold:
Rpm Torque HP
3000 410 234
4000 425 324
5000 404 385
5400 383 394
BEST 431 397
Third Configuration:
Next, we removed the 1-5/8" headers and installed a set of 1-7/8" headers. Everything you read will tell you that this will further kill low- and mid-range torque. But maybe they'd work with the spacer… In fact, the big headers didn't kill the bottom or mid much, and the top end started to wake up a little – the engine broke the 400-horsepower mark:
Rpm Torque HP
3000 398 227
4000 422 321
5000 419 398
5400 387 398
BEST 430 404
Forth Configuration:
Finally, we pulled the spacer out, put the original jetting back in the carb (jetted in the out-of-the-box setting), and gave it a final pull: This turned out to be the sweet combination: The engine pulled over 400 horse across a 500 rpm range, and produced a torque curve so high and flat that this thing can be used to pull tree stumps. The big headers lost only 3 ft/lbs at the torque peak, and otherwise bettered the small headers across the rpm range in torque and power – by a significant margin. The official numbers for the engine are 407 horsepower and 442 ft/lbs torque.
Rpm Torque HP
3000 412 235
4000 434 330
5000 416 396
5400 396 407
BEST 442 407
We did a total of 15 pulls on the engine, and it performed without a hitch – the engine sounds and feels great! Based on the results, the engine is intake manifold limited – if we had the hood clearance to use a Performer RPM Airgap, the components really would have worked well together, and we would have broken the 420-horse mark easily. As it is, I had guessed the engine would produce 420hp/440 torque. I missed the HP by 13 and nailed the torque within 2...
Here are the results of the numbers guessing game in order of closest to the actuals (the difference of the hp/torque numbers added together determines how close you got):
Lars: 420/440
Rowdy1: 430/440
Herminator: 440/440
Mac: 380/400
rgtrough: 453/465