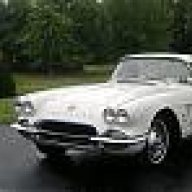 Joined

Aug 30, 2006
Messages

50
Location
Corvette

1962 Ermine White Hardtop
Another part falls victim to 25 years of sitting idle...

We took the car out to test out my carb tuning (which seems to be paying off in the short drive we managed). About 200 yards from the house, coolant started dripping onto my wife's foot. We got it home and coolant was coming out of the heat control valve at a pretty good rate.

As I read the repair manual, the heat control valve is opened with the pull knob, but there is a capillary tube that varies the position of the valve to try and maintain a constant temperature in the core..is that correct? I looked at Doc Rebuild's site and he has a replacement for the valve, but it doesn't accomodate the capillary tube. If I've got the operation right, I don't think I'd ever miss the cap tube...but I want to be sure it does what I think it does before I buy a replacement without it.

I assume there's no way to rebuild the control valve? It looks like it's just a rubber plunger that's allowing the leak. I hate to to toss out something that can fixed.