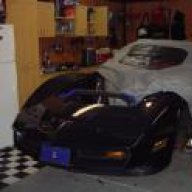 Joined

Jul 18, 2003
Messages

97
Location
Corvette

1981 Dark Blue Coup
I have read many post on this subject and honestly not sure which direction to go, since most post discribe their own unique project...so here goes mine. I am at the point in my restoration project that the engine and transmission is next. Just completed rebuilding both doors (hardware, new window regulators, motors, lock actuators, new rubber..etc..etc).....now what I would like to do is this:

Keep my original engine and upgrade to produce more horsepower....not 18 anymore, so looking for a good mix of daily driving with an occasional "show off" of what my smog vette will do ( have true dual exhaust now). Want to keep the stock q-jet and distrubutor. I know most HP gains can be made in the heads. I will be removing the engine and transmission myself and then to the machine shop for the engine. I am looking at buying a 700R4 (I want the overdrive) and know that some modifications will need to be made to the shift panel and lock-up conversions.

I am stuck on the gear ratio...mine is stock........as always I look forward to the feedback that I get from this outstanding forum:

Recap:

1. Engine rebuilt: suggestions

2. Transmission/rear end ratio combination.....(torque converter recommendation also)

Happy Holidays to all!!