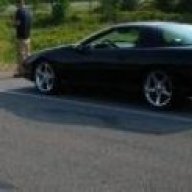 Joined

Dec 17, 2001
Messages

709
Location
Corvette

!985 ,blue coupe, 4+3 Z51
85 Engine project begins

Tomorrow I take my engine block in for the start of my engine rebuild. Not sure if I'm going the the 383 route or not. Here's why , maybe I could get some feed back on this.
I came across a deal on AFR heads ,190 cc, fully ported and have dyno time only. They are complete and also a complete tune port system consisting of the TPI Big Mouth Manifold ported and Big Runners . ported plenum and 58mm TB and injectors that are actually too big , didnt work well. All are practically in new condition. the whole package for half the price new. After talking with TPIS I found out that the package would yeild about 500ftlb and 400 hp. The said its all done at about 4800 rpm. One of my concerns is the torque. Dont think it will be all that necessary for the street and it wont see the drag strip. And I'm afraid of tearing up the drive train. another option is the min-ram with the 383. I would lose about 60 ftlbs ,but gain about 80 hp( total of about 480hp) Or just do A 355 cu in and go with the first package.
Do you think the 52mm TB would be a better way to go with the Big Mouth ,runners etc.? The last option is the least expensive and that is to use my tune port parts and do all the porting and a 52 mm . Has anyone had experience with the Accell injectors? I installed a new rack yesterday and have all the polygrafite suspension bushings and and front end parts ordered plus wheel bearings and the clutch goes in tomorrow for a redo at Clutch Dynamics near me. They are fantastic .