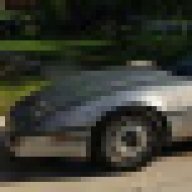 Joined

May 21, 2013
Messages

44
Location
Corvette

1987 Corvette C4 Silver Coupe/Targa
Ok, being a new owner of a 87 Corvette and having confusion with the Bose Stereo System installed. I understand that the Bose radio/cassette is unique and an owner can't just tear it out and replace it with a more modern system without some modifications. Here are my questions...
* I seen Kenwood stereo system at
Kenwwod AM/FM/CD with AUX input
for $99 but the website doesn't give much install/technical information. Would anyone know if this system is just an easy swap installation? Or would it require modification, to include the wiring and holding bracket. I read that this Bose system has a special amp and according to what I read, there is no easy replacement without modification. Hopefully some one has already tried this or knows.
* Since the Bose speakers are amplified, I would assume that I couldn't replace any of the speakers without modification of some sort. New speakers at stores like Best Buy aren't amplified like these. Any help or tips. Also, that Full Throttle Corvette website I linked above also sells Kenwood replacement speakers for my 87 Corvette... but it one again doesn't give much information about technical and installation. Has anyone tried these or knows how to easily upgrade or replace the speakers without getting into electrical mods and such.
Any help would be appreciated.