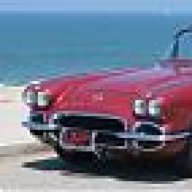 Joined

Jul 10, 2003
Messages

140
Location
Corvette

62 Maroon, 03 Anniversary Convertible
A short while back I joined in a post that was about a 90 which would not start when hot. I had what seemed to be a similar issue with a friend's 89. It turned out to be not quite the same issue (I think).
My issue was an engine which would "die on acceleration" when the car was hot. It continued to get worse until it finally would not start at all when hot. I did a lot of stuff to the car, based very much on excellent advice from people on this forum. My thanks to all. It got the car running.
There is a recap of all that was done below. With all these stuff done, the can now runs and runs very well. However, it is consuming a lot of fuel.
The folks at SouthBay Fuel Injectors suggested checking some sensors to see their settings. The note from SouthBay Fuel Injectors is:
"Try checking the following: All sensors: If there is something wrong with The air and H20 sensor it will tell the computer to put more fuel in. Check the 02 sensor and the timing."
​
So, my question/request: Can anyone provide me with the correct sensors and settings for these sensors so I can get them tested? Thank you.
I suspect I'm going to hear from some to buy the service manual. And, I will. I thought I was done with this car but obviously not. However I need the data now. Thanks.
The following was lifted from the prior post as background:
I thought it appropriate to post the continued status on the 89 I spoke of which would not continue to run and was finally was diagnosed with 2 very bad injectors. I did buy and install a set of Bosch III injectors from SouthBay Fuel Injectors.
I can't say enough good things about these people. They were available at all hours to help me (my 1st time doing this) get the injectors installed right and not leaking.
The instructions previously posted by someone else on this site were very good; a few variants such as a solid vacuum line to the brake booster and the need to disconnect a few more parts at the front in order to get to the inside bolt on the passenger side of the fuel rail. But, all in all, if you take your time, anyone can do this. Just don't rush!!
So, the car is back together, runs good, idles nice, etc. However, fuel usage is way up!!! I don't personally have a history driving this car but I was a little concerned with fuel mileage while I drove it for the few days after the job. But, I was driving on city streets and putting my foot into her to see if she died on hard acceleration. Nope. She runs fine.
The owner of the car is now telling me she is seeing freeway mileage in the high teens while cruising at about 60, where she was used to seeing high 20's in the same circumstances. So, back to my "experts"! Any advice?
Let's recap what has been done (in this sequence)
Ignition module replaced.

Cap, rotor, and coil replaced.

Fuel filter replaced.

Fuel pump replaced.

Throttle control valve replaced.

ECM was replaced (by the dealer).

Original factory injectors replaced by Bosch III 22 lb. injectors.
This is where she sits. Runs great, runs strong (for an 89). But using a lot of fuel. Ideas?
Thanks again for all your help.