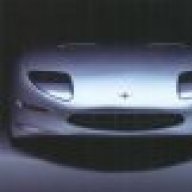 Joined

Aug 2, 2005
Messages

1,767
Location
I always love seeing garages like this. It's always great to see someone who is devoted to one model of car! This garage was in the background of an ebay ad where the owner is selling this interesting Jaguar XK8.

Someday my personal garage will have our '02 35th Anniversary Edition Camaro SS, '95 Camaro Z28, and a beautiful Callaway C8 in it. I'm in no rush though. The passing down of the Camaros can wait many years.
What do your garages look like Callaway friends? Is your garage bigger than your house? Show what you've got!
This is what my family's garage currently looks like:
I come from families of car nuts on both sides; my mother's father had 4 '60s Corvettes at one time during the 70s. One of which was a blue 427 that Jay Leno currently owns. My Dad has a '92 white Corvette with white leather interior. My dad's brother has a '69 Camaro and '65 Corvette (I think those are the proper years). I wish I had pictures of their garages.