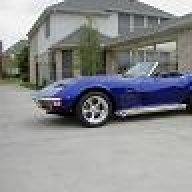 Joined

Nov 21, 2003
Messages

276
Location
Corvette

71 Kandy Burple Conv / 02 MY Z06
I just got my crate motor for my 71 and it's time to put the accessories back on. I'd like to clean everything up a bit and I don't like the stock brackets especially since the alternator and AC bolt to the exhaust manifolds.
The car has the long style AC compressor and Power Steering. The new motor has 3 bolt holes in the front of both heads. I'm thinking of putting in SPAL fans so maybe a long water pump kit would work as well but AC is still an issue.
I like the looks of the ZOOP kit #8002 shown here
from their website but it doesn't look like it will work with the long style AC. I'm not thinking serpentine due to cost (I'm not sure this kit is even within budget). I've seen some posts on using later C3 alternator brackets but I'm not sure that solves the AC problem with sidemount headers. Also if I went with the shorter style AC compressor would the stock AC hoses reach and/or be able to bolt to the new compressor?
I'm looking for suggestions from everyone such as other vendor names, your solutions, other ways to think about this. Thanks in advance.
Whiplash