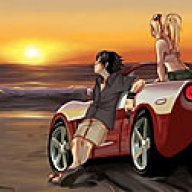 Site Administrator
Staff member
Administrator
Joined

Sep 16, 2000
Messages

13,790
Location
Corvette

1990 Corvette ZR-1
A couple weeks ago, I replaced the spark plugs I had in my ZR-1 (AC Delco Rapidfire #5) with a new set of #5s. It probably wasn't necessary as the old set had about 10-12K miles on them and they were still pretty clean, but I figured, what the hell.
I went to the local parts store and bought a new set. Upon inspection at home, I found that I had two different spark plug tip designs. One has a pointed/crowned electrode. The other is a blunt, rounded electrode. I checked the identification marks on both types of plugs as well as the packaging. All indentification marks indicated they were AC Delco Rapidfire #5 plugs.
The only difference in packaging on some of the plugs was the #"5" was in red and in blue on some of the packages. Some of the packages indicated that the gap was preset to .045 and not to reset the gap. This was not present on the other packages.
I went back to the store and returned the plugs with the rounded electrodes so that I could have a matching set.
I contacted AC Delco this morning regarding this issue and this is the response I received:
Thank you for writing ACDelco.

The RAPIDFIRE Platinum spark plugs have been updated with new features and benefits. These updated spark plugs will be called RAPIDFIRE Platinum spark plugs. The new features focus on changes to the center electrode, the side electrode (also known as the ground electrode) and the insulator.

We do not advise someone to purposely mix the new RAPIDFIRE PLATINUM and the older RAPIDFIRE PERFORMANCE plug because the gap may differ and there are 2 different change intervals. If they were mixed by accident and each one was installed with each one's specific gap and durability, that may be acceptable but not desirable.
It should be noted that none of the packages indicated that they were platinum tipped plugs. So....my recommendation is, make sure that before you leave the store, with a new set of #5s in hand, make sure the electrode design is the same on all 8 plugs.