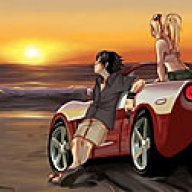 Site Administrator
Staff member
Administrator
Joined

Sep 16, 2000
Messages

13,871
Location
Corvette

1990 Corvette ZR-1
ALMS Corvette Tandem of Berretta, Gavin Among the Best in 2006
Posted by: MSulka on Dec 03, 2006 - 09:28 AM
It wasn't easy but Corvette Racing's Olivier Beretta and Oliver Gavin again were the class of GT1 in the American Le Mans Series for 2006. For the second straight year they teamed for the class drivers title and have been nominated to the American Auto Racing Writers and Broadcasters Association's annual All America team.
The duo recorded four class wins in their Corvette C6.R including the first three rounds of the season - Sebring, Houston and Mid-Ohio. They added another win at Portland and closed out the year by finishing second at the Monterey Sports Car Championships to wrap up the championship.
Beretta and Gavin also won the 24 Hours of Le Mans again with Jan Magnussen, the third consecutive year the trio stood o­n the top of the podium.
Beretta is the winningest driver in Series history with 28 class wins - the most among the 679 drivers who have competed in the Series - and its o­nly four-time class champion. He also is the Series' career leader in pole positions (18) and fastest race laps (20).
Gavin has been nearly as prolific as his teammate. In the past three seasons he has won 14 times with six GT1 poles and 12 fastest race laps in class.
For 36 years, AARWBA has elected the annual All America Racing Team. The team is recognized by the Associated Press, Reuters and major publications as the o­nly team of its kind in motorsports. Each year, two team members are elected in each of seven categories (unless there is a tie, in which case both tying drivers are elected). The driver who receives the most votes is awarded the Jerry Titus Memorial Trophy as AARWBA's Driver of the Year.
This year's All America team will be announced at the organization's annual banquet o­n Jan. 13, 2007 at the Hyatt Regency in Indianapolis.