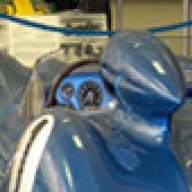 Well-known member
Administrator
Joined

Nov 9, 2000
Messages

7,420
Location
Corvette

1959 black 270hp (9/2/69) 1981 Beige L81(10/20/80)
Went to Cars and Coffee a couple weeks ago and haven't really looked at the '81 close since then. I wiped it down before the show and everything was clean. Yesterday I noticed a hazy oil film on the left rear wheel. The caliper looks dry so I stuck my phone under the front of the wheel and shot a picture. It appears that one of the original shocks has blown out. Now I have to decide what shocks to put on it. Any suggestions on shocks that you have been happy with? I'd be looking for something that looks stock with original or better performance.

I need to replace the outer spring bolt cushions too so I might as well do it all at once.

Tom

p.s. It was real hard to roll the car over on it's right side to take this picture.