Joined

Apr 17, 2019
Messages

3
Location
Corvette

C6 2005
So i have a 2005 C6 with around 40k miles and its been giving me nothing but issues.
I am no expert mechanic so I am turning to you guys in desperate need of help and advice.
First and most importantly, the belt came off of the engine. Because of this, the car overheats within minutes and cannot be driven. The power steering does not work. There was a very loud and weird noise coming from the car at the time the belt broke off. I've looked at other posts on this website and found that the noise is most commonly associated with the water pump, so that's my best guess. The display shows engine oil, low levels of coolant, and turn off the air conditioner warnings.
So my question is...
What do we think is the issue here?
Has this happened to anyone else?
How did this happen?
How do I resolve this issue?
How much is the estimated repair cost going to be?
Here is a photo of what appears to be a belt that is clearly in the wrong place.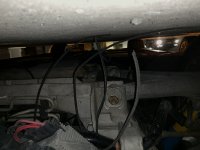 Please help me out here. I would love to get some advice. I have sunk too much money into this car and it's been a nightmare the entire time.