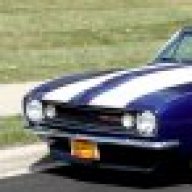 Joined

Jun 24, 2002
Messages

1,054
Location
Corvette

2016 C7.R Z06 "ROSA" - black 'Vert w/yellow accent
Folks,

Wondering if anyone knows how one would go about finding the Buildsheet (guess they were formerly called Broadcast Sheets) on a 1963 SWC? Were these placed on the car
like the stories we hear about them being on the gas tank, etc.?

Sure would love to find the one for my new/old 1963 baby.

FYI - still working on getting pictures posted for the CAC of my 1963 and 2001

BTW - I know you can get restoration packages from the NCM - have already talked to them and they are sending me what they have for 1963 - just wondering if GM ever archived any of the old records someplace!? I know, wishful thinking! (VBG)

PPS - called the Virginia DMV and tried to do a records check for the VIN of my 1963 - well their system is just like all the other's - if your VIN is for a car older than about 1981 they will find no information! The software/database is looking for the new VIN format not the old 12 character VIN like in 1963!@@@@@@@@@ Still haven't heard anything from the New Jersey DMV.