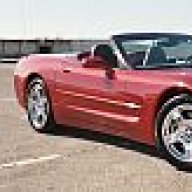 Joined

Jun 23, 2004
Messages

6,662
Location
Corvette

2003 AE Convertible, 1998 LCRM Convertible
I'm putting this in the C5 section instead of the Roadkill section because I wouldn't race the idiot. I WANTED to... in the worst way. But the days I let someone else draw me into something I know is wrong are behind me... at least I held firm to that philosophy last night. Besides, my co-pilot would've killed me. ;squint:
So a friend and I were driving home last night in my C5 after dinner with 2 of my other friends. We were cruising along, having a nice conversation when suddenly I hear a racket next to me. This wasn't Corsa's or Borla's but sounded more like my dad's old pulpwood truck.
I look to my left and see an early 90's model Camaro pacing me. The thing looked like do-do and sounded worse. I looked straight ahead and tried to ignore him. He obviously thought he had something to offer because he kept goosing the accelerator, then he'd back off and pace me again. I was getting pretty annoyed but my co-pilot quietly said, please don't.
He alternated pulling ahead and then backing off to pace me for another mile and a half or so, until we both stopped at the last red light for 4 miles. He sat there and revved the engine a couple of times and it sounded like the old pulpwood truck more than ever... on a bad day. I sat there thinking, having this internal argument whether to launch or not to launch. Teach him a lesson, or let it go.
Anyway, I resolved not to take the bait. I know what I've got, I know what it cost me and I know what it would cost me to wreck it, blow it up, or have it impounded for street racing. ;squint:
When the light changed, he popped the clutch and launched... at least what must be his definition of launch! WTH?!? I wasn't even racing him, though I admit I did accelerate a bit faster from the stop than I normally do, I by no means LAUNCHED. My racing experience is pretty much next to nil, but I've read a current thread running here where the guys talk about accelerating to redline something like 55 or 60 in first gear. This numbnuts wasn't even up to 60 by the time he shifted to third! He was running through the gears, the exhaust was roaring and popping and I was staying with him through his shift to third and I wasn't even trying.
Now to demonstrate how pitiful his performance was, my friend and co-pilot, who is NOT a gearhead and knows even less about cars than I do, said at the same time I did - THAT'S ALL HE'S GOT????



We both broke up at the same time and laughed so hard that I thought I was going to have to pull over 'til I could get myself under control. I mean I laughed so hard my eyes teared up and my vision blurred. Co-pilot got serious for a moment and said OMG... I could've beat him in my Explorer and we lost it all over again.

otfl
He kept accelerating and didn't back off anymore. I guess he thought he'd taught me a lesson... or thought he'd better not push his luck anymore with that POS. Whatever.
Anyway, it was the most fun I've had in a non-race in a lo-o-ong time.
Thank you, Mr. Camaro, for a very entertaining end to a pleasant evening.

Jane Ann