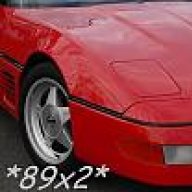 Joined

Feb 18, 2002
Messages

10,357
Location
Avail. now at the dealer!

NEW 2007 Chevrolet Callaway Corvette
Callaway Information
560hp Supercharger Package:
- 560 bhp (SAE) Supercharged 6.0 Liter (366 cu.in.) V8
Cast aluminum block and heads; 6-bolted main caps; modular iron crankshaft.
- Supercharger: Eaton / Magnuson roots-style with air/liquid intercooler integral to intake manifold. 44" Hg manifold pressure, absolute (7 PSI)
- Horsepower: 560 bhp @ 6200 rpm, Torque 500lb-ft @4750 rpm.
- Polished Supercharger Housing

Callaway / Eibach Multi-Pro Coil-over Suspension:
- Double adjustable dampers with external reservoirs
- 10 Position compression control
- Companion helper and tender springs supplementing composite leaf springs
- Callaway anti-roll bars, tubular steel, front and rear.
http://cgi.ebay.com/ebaymotors/Chev...ategoryZ6168QQihZ020QQitemZ300109328069QQrdZ1