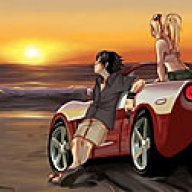 Site Administrator
Staff member
Administrator
Joined

Sep 16, 2000
Messages

13,791
Location
Corvette

1990 Corvette ZR-1
Callaway Cachet
Performance Sports Car Builder In Old Lyme Modifies 200 Corvettes A Year

May 23, 2007
OLD LYME -- Got a few extra seconds? Reeves Callaway, the owner and founder of Callaway Cars Inc., knows just what to do with those spare moments - like accelerating from zero to 60 in 3.3 seconds, or covering a quarter-mile in 10.9 seconds.
From the time Callaway was a teenager, "he liked to go fast," said Mike Vendetto, the company's commercial manager in charge of sales and marketing.
Fortunately for American sports car enthusiasts, Callaway's mother insisted on one thing: "She forbade me from ever riding a motorcycle," said Callaway, 59. As a result, Callaway confined his quest for speed and horsepower to four wheels instead of two.
Since 1987, the company and its designers, engineers and technicians have been producing Callaways, a line of sleek, high-performance cars built on a Chevrolet Corvette platform. Callaway Cars, whose headquarters are in Old Lyme, modifies 200 Corvettes each year.
Last year, the company rolled out its 16th major project, the C16 Callaway Coupe, which debuted in December at the Los Angeles International Auto Show.
The C16, which features a standard 560-horsepower engine, ranges in price from $119,865 for the basic package to a little less than $200,000 for the fully loaded version, which includes custom leather interior, a six-speed transmission and a 616-horsepower engine with a top speed of 206 mph. The cost includes the stock 2007 Corvette upon which the car is built, much of which isn't used.
It usually takes about 12 weeks to complete the transformation from Corvette to Callaway. By the time a new C16 rolls out the door, nearly half of the original vehicle will have been replaced by Callaway components, Vendetto said.
"When it comes to the exterior, "the only thing we leave is the greenhouse - the windshield and glass - and the trunk lid," Vendetto said.
Despite extensive modifications, the Callaway complies with all emission standards. In addition, installing a Callaway supercharger only slightly increases the car's original fuel consumption, Vendetto said. "You lose about a mile per gallon." The C16 gets about 17 mpg in the city and 27 mpg on the highway, the company says.
"Making cars that are emission-compliant and really powerful - that is still the business model," Callaway said.
Callaway Cos. consists of three business units - Callaway Engineering, which provides contract engineering expertise and products to automobile manufacturers; Callaway Competition, which develops and builds race cars; and Callaway Cars, which specializes in designing and manufacturing specialty vehicles and parts.
"We don't make any significant money building specialized autos," Callaway said. "Our real service is selling engineering services to the car industry."
Callaway's customers include Michael Jordan, George Foreman and Mariah Carey, said Mike Zoner, the company's managing director.
The advantages to being a privately owned car company are many, Callaway said. "While 50 different groups have to sign off on the design of a new car at a big car company, I'm the only one who says thumbs up or thumbs down."
In 1987, with the blessings of General Motors' Corvette division, Callaway Cars introduced the Callaway twin-turbo Corvette, which sold for $50,000, twice as much as a standard Corvette. In its first year of production, the company modified only the Corvette's engine and transmission.
But Callaway said he quickly realized that to give the Callaway its signature identity and boost sales, he had to modify the Corvette's exterior.
"People couldn't be convinced to spend twice the amount for something that didn't look different from a Corvette," Callaway said.
Callaway employs more than 70 people in three locations - Old Lyme; Irvine, Calif.; and Leingarten, Germany. But in the beginning, the plan, Callaway said, "was never to do anything but work on one car at a time."
After graduating from Amherst College with a degree in fine arts in 1970, Callaway, who grew up in Connecticut, embarked upon a successful career as a race car driver. It was a great career, he said, "until I went broke."
At age 28, Callaway returned home, hoping, he said, to find "something to do."
That something turned out to be turbocharging automobile engines, a process that uses the engine's own exhaust pressure to boost horsepower, Vendetto said.
Founded more than 30 years ago in Walker Evans' garage - yes, that Walker Evans, the photographer whose photographs from the Great Depression illustrate James Agee's book, "Let Us Now Praise Famous Men" - the company's start-up costs hovered near zero, if you don't count the coffee pot and the old refrigerator, Vendetto said.
Callaway got to know Evans in the 1970s. "Walker Evans was teaching at Yale, and he wanted someone to tend his house in Old Lyme. He let me live there for free," Callaway said. The old house included a garage on the property.
Fresh from racing, Callaway launched a second career of teaching people how to become race car drivers. In partial payment for his services, he received a BMW 320i. Road-weary and just off the racetrack, the car was "in pretty sad shape," Callaway said. Tinkering under its battered hood, Callaway eventually built a turbocharger system that made the old BMW hum.
"It got a 100 percent increase in horsepower, and it still didn't break," Callaway said.
In 1977, word of the car's get-up-and-go traveled quickly among auto enthusiasts. Orders for Callaway's turbo system poured in. Within a few months, Callaway and his five employees had outgrown Evans' garage and its septic system. "The tank was burbling over," Callaway said.
In 1982, they moved into their present location, a low-slung, cream-colored 12,000-square-foot building that bears only the name "Callaway" in stark black letters.
Eventually, Callaway Cars began turbocharging not only BMWs, but also Porsches, Volkswagens and Alfa Romeos.
In 1985, the call Callaway had been hoping for came - a sponsor. Impressed with the power boost he had given Alfa Romeos, David McLellan, then Corvette's chief engineer, "asked Reeves if he would be interested in building a twin-turbocharged Corvette prototype," Vendetto said.
"If you're an engineering outfit, as we were, you need an association with an original equipment manufacturer," Callaway said. "It's a traditional association. Most auto companies have used a specialist to do their high-performance versions. In our search to find the right partner, we were just lucky that General Motors called us."
With GM's sponsorship, sales took off, Callaway said.
"We had a 10-line phone system," Callaway said. "All of the lights lit up at once and didn't stop lighting up for 10 years."
Contact Janice Podsada at
jpodsada@courant.com
.
Hartford Courant