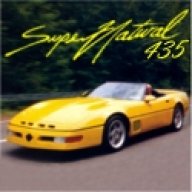 Joined

Apr 3, 2005
Messages

338
Location
Corvette

'92 SNAT435 Yellow aerobody 'vert // 1988 #57 B2K
...not really! However, last month I was on a local cruise with a group of 20 or more local corvette owners. We've done this a couple of times now and the trip is usually 2-3 hundred miles of "spirited" fun on some Texas/Oklahoma back roads.

Anyway, on my way home from the cruise I see a buddy of mine in his '04 Commemorative edition Lingenfelter 427cid TT coming up on me really quick. We have two way radios and he tells me that he thought I was a yellow Miata!?!?!

Granted he has some pretty impressive cars. He also owns car #1, 1 of 25 C6 Lingenfelter Commemorative Edition the one in Road and Track last year. So, I thought nothing of it until last night at a local car show. When a group of Corvette owners started talking about the new C16. Somehow the mentioning of Miata came up again and the comparison of the C16 to the Miata!?!?!

Now I've heard the C16 looking like a Jaguar, C8 and a morphed C12/C8 but never a Miata!

Anyone else hear of their Aerobody Corvette being referred to as resembling a Miata? From the rear of course!