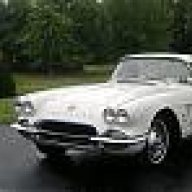 Joined

Aug 30, 2006
Messages

50
Location
Corvette

1962 Ermine White Hardtop
As I continue to get deeper and deeper into our 62, I'm starting to realize how much I've forgotten about carburators. I've been a Fuel Injection guy for the last 20 years and haven't touched a carb since I stopped driving my 66 Corvair Monza with 2 1bbls.

My 62 has a Holley 4053 4bbl on it, which I think is WAY too much carb for the car (327, high lift cam, solid lifters), being a 780cfm carb according to everything I've read. The car has been pig rich since we got it and had some pretty healthy backfiring issues on the drive home from Carlisle.

I pulled the plugs (all 8 were black), set the point gap and tinkered with the carb yesterday. The mixture screws were about 4 turns out, so I turned them in and then backed them out about 3/4 turn. That helped with the heavy black smoke exiting the pipes.

I *think* from what I've read that this carb should be vacuum secondaries with an automatic divorced choke. If that's true, I think I'm missing some pieces and understand why the car was so rich - it has no choke thermostat and thus no choke...so the mixture had been turned up to compensate for the lack of a choke. If I'm right, there should be a bi-metal spring mounted to the manifold where the threaded hole is under the choke and it should be attached to the hole on the choke arm (both circled in my crude MS Paint picture).

All of that said...short of taking things apart and changing jets, what are my options for adjusting the mixture on this carburator? Just the two small screws on the front? Do they affect mixture across the board or just at idle? Can I buy just the choke spring and rod somewhere?

I'm planning to replace the carb, but would like to find the correct AFB 3296-S to do it rather than go through an intermediary carb on the way to the AFB.

Thanks for any advice - thanks to JohnZ for already answering a ton of my questions via searching this and the various Z28 forums!