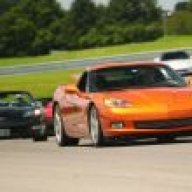 Joined

Sep 24, 2004
Messages

6,569
Location
Corvette

2007 Atomic Orange Coupe
One of the first things Marcus (Huskerman) said to me when we met and he looked at my car was, "Make sure you change the clutch fluid." So, I decided to do some research and after reading a lot, I thought I ought to go check out the clutch fluid in my car. I've had it about 6 weeks now and love the manual shift. I haven't had a manual since I had my 64 coupe 40 years ago. Anyway, what I found when I popped the hood and actually looked at the slave cylinder was it appeared very dark. I knew this wasn't right (after reading and watching rangers' videos
Clutch Care
, Thanks Ranger!). I bought a syringe and sucked out as much of the old stuff as I could, there was still a lot of black crap in the bottom. So with a blue towel I was able to wipe all the crap out. I shot the junk into a clean butter tub and it looked like very strong coffee. So I filled the reservoir with clean and pumped the clutch pedal 100 times. Checked again still very murky. Repeat the process, murky still. Repeat again, better, but still a little junk in there, So one more time before I get the fluid where it is clear.
I actually found the syringe at a farm supply place, I bought the 60mL size. Surprisingly, I had a hard time finding straight DOT 4 brake fluid. I went to two places befpre the third place had straight DOT 4. Many places had DOT 3 and 4, but not straight DOT 4.
The picture below is the results of all the fluid I sucked out, not just the first. Amazing how dark that crap is. The number of problems doing this can solve, remedy or forego is astounding. From hard pedal, to clutch failure. I highly recommend that if you have a manual trans to change the fluid out often. It's easy to do, doesn't really cost much, doesn't take much time to do and you'll be saving yourself a bunch of headaches down the road.