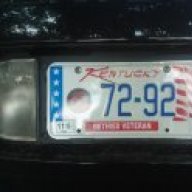 Joined

Nov 29, 2014
Messages

40
Location
Corvette

2000 Triple Black Convertible 6speed
I too have a stuck pedal. Backed out of the driveway nine days ago 20 Jan (5 am, 32deg) into the street. Just putzin along with low rev (2000) easy shifts. Got into fourth and the pedal stayed down. I can pop it back to the top with my toe, but no matter where the pedal is, the clutch will not disengage.
Driving to work and back in the morning was fun shifting without the clutch. Drove my '05 2500HD this evening. (171,000 miles, that clutch works fine) The master cylinder is full with clean fluid and no leaks anywhere.
Vette's sat in the drive from 9:30 am until 8:00 pm. Time/temp didn't fix it. Clutch is still engaged no matter where the pedal is. The pedal wants to stay on the floor.
Now today 29 Jan after I finished my wife's car and cleared the garage, when I went to put the Vette in there THE DAMN THING WORKED FINE !!

I think I'll concentrate on the master cylinder.