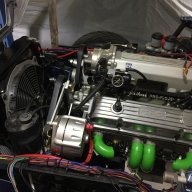 Joined

Dec 19, 2010
Messages

188
Location
Corvette

1984 Two-tone Blue Coupe
Hi Guys,
I am still having issues with a strange noise that comes on after warm up, after a rear mail seal replacement, I didn't notice it before anyway.
I changed the rear main oil seal, seal is ok, rear main ok, oil pump ok, oil pick up was full of crap, but the oil pressure is good all the time.
The sound comes on after warm up.
I have been told it is a pilot bearing and now when I depress the clutch pedal, the sound changes, so I think it may be a combination of pilot bearing and throw out bearing.
I do have issues selecting 1st and 2nd and reverse.
I also seem to have fluid on the slave cylinder but the gearbox is leaking gear oil.
The previous owner did a clutch replacement last year, but put the leaking gearbox in and I don't think the clutch was quite right when it went in, as they had to pull the gearbox again.
As a result, I am replacing the slave cylinder, clutch master cylinder, clutch and pressure plate, throw out bearing and pilot bearing.
I am also rebuilding the 4+3 and overdrive, I picked up another 4+3 and the overdrive is working on that transmission although reverse was an issue. All up I have two 4+3 gearboxes and two DANA 36 3.07 diffs, so I will overhaul the second units and pull and store my originals.
Given I am running stock gear, what brands do you recommend...most reliable and best prices as well, as the Aussie Dollar is crap at the moment against the Greenback.
I have been getting parts from RockAuto, but find the shipping can be high if parts come from different locations across the U.S
I am looking at a Sachs K1675-21 clutch kit and Dorman slave cylinder and master cylinder.

Tony