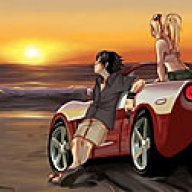 Site Administrator
Staff member
Administrator
Joined

Sep 16, 2000
Messages

13,790
Location
Corvette

1990 Corvette ZR-1
Corvettes could surpass Holden V8s in power stakes
May 08, 2007 12:00am
By
Mark Hinchliffe
, The Courier Mail - Australia
THE most powerful car to be sold by Holden in Australia could be the American muscle car, Corvette.
GM Holden chairman Denny Mooney has often talked about including the Corvette among American imports starting with the Hummer H3 next month.
GM Holden national media relations manager John Lindsay said he had "no further update" on importing the Corvette or other brands such as Camaro and Cadillac.
Meanwhile, Chevrolet has announced more power for the iconic Corvette next year.
The 2008 'Vette coupe and convertible will get a bigger small-block 6.2-litre V8 engine, even bigger than Holden's 6-litre V8 in models such as the Commodore and Caprice.
Chevrolet says it will have 321kW of power and 575Nm of torque, which compares with Holden's V8 figures of 270kW and 530Nm.
An optional dual-mode exhaust system will boost power to 325kW and torque to 580 Nm.
But the Z06 edition of the 'Vette will go even bigger with a 7-litre V8 with a claimed 376kW of power and 637Nm of torque.
Chevrolet claims a 0-100km/h time of 3.7sec in first gear.
It also maintains that the six-speed paddle-shifted automatic Corvette is its fastest automatic yet, capable of hitting 100km/h in 4.3sec.