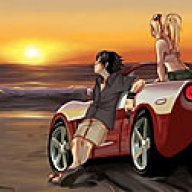 Site Administrator
Staff member
Administrator
Joined

Sep 16, 2000
Messages

13,915
Location
Corvette

1990 Corvette ZR-1
Could Corvette bring Chevy back to life?
Last Update: 5/25 12:16 pm
By RICHARD WILLIAMSON
ABC Action News, WFTS-TV
If Chevrolet had no other reason to survive, the Corvette would suffice for many of us. In the six generations since its introduction, the maestros of Bowling Green continue to find new ways to improve this iconic sports car.
The current generation known, as C6 is the smoothest and most comfortable ever, while retaining its 0-60 mph acceleration in 4.2 seconds and surprisingly decent fuel economy.
The C6 is identifiable by its exposed headlamps, a styling feature not seen since 1962, a shorter and narrower body than its predecessor's, a larger passenger compartment and a larger V8 engine.
In 2008, Chevrolet updated the C6 with a new, 6.2-liter LS3 engine, increasing the horsepower to 430 horses, up 30 hp from the 6-liter version. Engineers also improved the shift linkage on the six-speed manual transmission while retaining the Computer Aided Gear Selection that directs the stick from first to fourth gear in routine travel for improved fuel economy. With the new shifter, the first-to-fourth phenomenon is not as bothersome as before.
The 2009 is offered in coupe or convertible, with a targa top option on the coupe. To remove the targa top, you release three latches, lift the top and place it into a holder in the trunk. The convertible uses an automatic top. Corvette is the ideal sports car for top-down cruising, in either the convertible or targa.
As mentioned, the ride quality is excellent, with three choices available to the driver. The standard dynamic chassis control system manages the anti-lock braking, traction control and Active Handling elements.
The standard suspension is designed to blend comfort with precision handling. An optional Magnetic Selective Ride Control suspension has dampers that adjust the damping rates to various surfaces. The Z51 Performance Package has more aggressive dampers and springs, larger stabilizer bars, Goodyear Eagle F1 Supercar EMT tires, enhanced cooling and larger cross-drilled brake rotors.
In keeping with its dual-cockpit tradition, the current Corvette retains a feeling of strapped-in, low-center-of-gravity, high-tech design. All the instruments are intuitively placed, and the digital speedometer in the heads-up display is extremely helpful and not intrusive. If a traffic cop ever asks you how fast you were going, you can honestly say: "Yes, officer, I was going 39 miles per hour."
Steering wheel mounted audio controls and AM/FM/XM radio with CD player and audio input jack are standard. A $1,750 Bose audio system with an in-dash six-disc changer is part of a package that includes the Navigation System. OnStar system with Turn-by-Turn Navigation is standard and an onboard navigation system with voice recognition is available. Using a 6.5-inch (165 mm) color touch-screen display, the DVD-based system contains all the map data for the 48 contiguous states and most of Canada on two discs.
Corvette's keyless access electronically unlocks the door when the driver approaches the car. The system's emergency key and other remote-function controls are combined.
Coming up in the 2010 model year is the revival of the Grand Sport version of the Corvette, featuring wide-body styling and a suspension designed for racing.
With the same 430-horsepower engine, the Grand Sport will replace the 2009 Z51 package and will be offered in coupe or convertible versions.
Design characteristics include wider front and rear fenders -- including specific front fenders with integrated Grand Sport badges, Z06-style front splitter and tall rear spoiler, functional brake ducts and extra cooling, unique 18-inch front and 19-inch rear wheels, 18-inch high-performance tires in front and 19-inch tires in the rear.
An optional Heritage package adds front fender hash marks in a choice of four colors, and two-tone seats with Grand Sport embroidery.
Grand Sport was envisioned in 1963 as a factory-built, lightweight and race-ready production model. After four prototypes, the project was shelved, following GM's agreement to stay out of manufacturer-backed motor sports.
Without official sanction from General Motors, the Grand Sport prototypes saw extensive racing experience throughout the 1960s in the hands of "private" racers. All five original cars are accounted for today and are among the most valuable in the collector market.
Chevrolet offered a limited edition Grand Sport production model in 1996, commemorating the original racing cars and marking the end of the C4 era in Corvette production. All of the 1,000 examples were painted Admiral Blue and featured a white center stripe and red "hash mark" graphics on the left front fender, a graphic scheme that resembled some of the original race cars' designs.
WHAT'S NEW: Colors Cyber Gray Metallic and Blade Silver Metallic, revised crossed flags emblem, custom leather-wrapped interiors, Bluetooth.
PLUSES: Style, performance, collector value.
MINUSES: Limited functionality as two-seater, fuel economy.
BOTTOM LINE: An American icon.
Copyright (c) 2009 Scripps Howard News Service