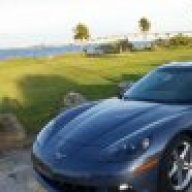 Joined

Jan 23, 2007
Messages

118
Location
Corvette

1971 Shark, 1985 C4, 2011 C6, 99 FRC. 66 Coupe
I have a crack in the Acrylic top of my 85. I wasn't too worried about it until I jacked the car up yesterday and saw how much flex these cars have. The crack opened up like the Red Sea when I jacked up the front right.

Upon doing a search I've seen two suggested fixes although the threads were very old (2001). One was some kind adhesive from 3M the other was a LORD adhesive. Does anybody know if they've come out with anything better in the last 5 years? What are current members using? Can you use heat to fuse the crack together, maybe from the inside where it wouldnt show?

I put a couple bids for tops on ebay but they don't end for a while and it's supposed to rain tomorrow.