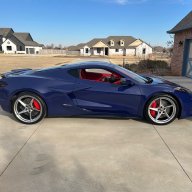 Joined

Mar 27, 2003
Messages

3,679
Location
Corvette

'13 427 60th vert - '21 Silver Flare Coupe - CTS V Wagon(4-door Vette)
Okay, A couple of weeks ago, my 2021 Corvette was approaching 7000 miles - time to consider getting that first service done which includes the DCT filter change. I make an appointment at my favorite dealer service department and decide to wait (the service writer said that the DCT filter change would take about 3 hours.). After an hour, they tell me that they have completed the engine oil and filter change but I'll have to come back for the DCT filter because they are out of stock.
Last week I get the call that they have the filter. I am again told that the filter change will take about 3 hours. So, this past Monday, I drive to the dealership and wait for the filter change.
The filter change takes about 3 hours like they promised except for one little problem. They can't check the fluid level if the transmission temperature is above 105f. Well, my trans temp is well over 140 due to the drive to the dealership. It took 4 hours for the trans temp to cool below 105f.
IT was a good thing I brought a good book to read while I sat around the dealership waiting for the temperature to get low enough to check.
If you haven't had your first service done yet, plan to leave your C8 with the dealership for the day.