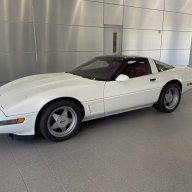 Joined

Dec 6, 2000
Messages

1,292
Location
Corvette

'90 ZR-1 #3010
Dynoed the Z on Saturday.....[video]
Well, I've been waiting to this for a while now and went ahead and dynoed my Z last weekend. The car has 24,500 miles with Watson headers, flowmaster cat-back, chip, and a K&N air filter.
My first run, the car pulled 330.4hp at the wheels. I wasn't to happy about this run because it feels stronger than that. However, my second pull was better coming in at 342.1hp at the wheels. Getting better........
342 was a decent figure but we noticed my car runs very rich. My second pull the car ran a bit leaner which helped the hp improvement.
My next step is to have my chip recalibrated to run a more lean mixture. Hopefully I'll hit somwehere in the low 350's at the wheels. Overall, it was a pretty fun day.
here's the link
http://www.digicat.org/~biz/ForumVideos/Cars/Dyno/jayZr1.mpg
Jay