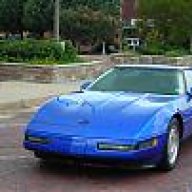 Joined

Jul 27, 2006
Messages

4
Location
Corvette

1994 Admiral Blue Coupe
:ugh Over the weekend the thermostat in my 1994 Vette went south taking with it the ECT sensor. During the event, the upper radiator hose was blown off of its radiator connection causing coolant to gush out all over where it shouldn't be. In the course of this mess, the Check Guages light came on and the analog water temp gage ceased to function; the Low Coolant light also illuminated. The digital water temp gage continued to work. My query is about the water temp gages.
Do the digital and analog water temp gages receive the same inputs from the ECT sensor? Why would the analog gage fail while the digital gage continue to function?:confused
Currently the only cooling system malfunction my car has is a failed analog water temp gage. Otherwise, this system has all new hoses and clamps (not the GM crap), new water pump, new thermostat and new radiator.