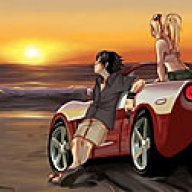 Site Administrator
Staff member
Administrator
Joined

Sep 16, 2000
Messages

13,790
Location
Corvette

1990 Corvette ZR-1
'Father of Corvette's' ashes rest in museum
By Berry Craig
Associated Press
1-19-07
BOWLING GREEN - When most people die, they go to a cemetery. Zora Arkus-Duntov went to the National Corvette Museum in Bowling Green instead - an appropriate place for "the father of the Corvette."
"Zora asked that his ashes be brought here," said Bobbie Jo Lee, museum marketing and media relations manager. "He was the engineer who turned the Corvette into the world-class sports car it was meant to be."
Arkus-Duntov died in 1996. He was 86.
An urn filled with his cremated remains is part of the museum's Arkus-Duntov memorial exhibit. His blue and silver 1974 Corvette is parked nearby.
The museum is across the street from the factory where Corvettes have been made since 1981.
"He loved it here," Lee said.
Arkus-Duntov was born in Belgium. He and his Jewish family fled Nazi-ruled Europe for America early in World War II.
After Arkus-Duntov saw a 1953 Corvette, he applied for a job at Chevrolet, which manufactures the sports car. He was hired as an engineer.
A six-cylinder engine powered the first 'Vettes. Arkus-Duntov transformed the little two-seaters into muscle cars with sleek styling and V-8 punch. "He was responsible for such advances as disc brakes, independent rear suspension and limited-slip differentials" in Corvette production, said Arkus-Duntov's obituary in the Detroit News.
Arkus-Duntov, who also raced sports cars in the U.S. and Europe, lived in Detroit. He retired in 1975 but made several trips to Bowling Green to help promote the Corvette Museum, Lee said. The 68,000-square-foot facility, which opened in 1994, features vintage and new Corvettes and Corvette-related memorabilia and displays.
"He was at the groundbreaking ceremony," Lee said. "That's when he asked that his ashes be put in the museum. When his wife dies, her ashes will be placed in the urn with his."