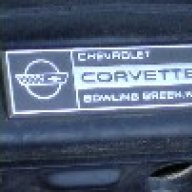 Joined

May 26, 2003
Messages

2,760
Location
Corvette

1986 Black "Indy 500 Pace car replica"
I currently have a fuel pressure issue. I have set my holly AFPR for 45 to 47 psi with the vacuum line disconnected. I find that as my RPM's increase the fuel pressure will actually drop instead of approach the psi I set it for.

I have replaced the fuel pump with a WALBRO. I replaced the fuel filter last spring. I have 24# injectors. This is the second AFPR the first was a crane, and now this holly.

I am going to drive the car again monitoring the fuel pressure only this time I am going to unplug the vacuum line to the AFPR to see if the pressure still drops. I am going to try to scan the car and determine the duty cycle of the injectors. My thinking is that the injectors are undersized, and they are full on causing a decrease in fuel pressure. The only thing I cannot get over is that I think the new fuel pump should supply more fuel then the injectors can provide.

Any ideas let me know...