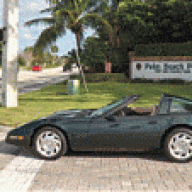 Joined

Dec 3, 2006
Messages

34
Location
Corvette

1996 Polo Green Coupe
Had a little scare today on the way home traveling down the turnpike at 75-80 and all of a sudden my car cutting out and then running fine, this went on for about 10 miles and when I exited the turnpike and had to come to complete stop the car would really act up and stall. The good news was at least it would start back up and if I kept the rpm's up a little I could make last until I was moving again.:confused
Got home checked around the spark plug and opti coil connections and took her back out, now it seemed to be even worse.:W
So I gave Junk a call and unloaded my troubles on him, after about 10 seconds of thought he told me it sounds like the EGR valve is acting up, go get some cleaner and new gaskets take it off clean it up and reinstall it with the new gasket.

It was too late to hit the part store so I removed the EGR cleaned it up and now old Thelma runs like her old self, trouble free and good to go.
I will pick up the new gasket and install this weekend but it sure is great to have people like Junk on this site that are will to share their knowledge with the other members. THanks Junk!!