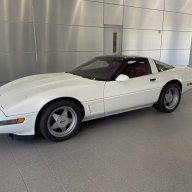 Joined

Dec 6, 2000
Messages

1,291
Location
Corvette

'90 ZR-1 #3010
Looks like I might be heading to the track in a few weeks to duke it out
with my boss
Hes' got a '90 with no motor work but a few bolt-ons. I heard through the grapevine at work that he wanted to race my ZR-1. He's a super cool guy who's not cocky at all so it looks like it will be fun. However, there are all kinds of side bets going on between everyone at work. He's never been in a ZR-1 before and I don't think he realizes just how quick the car really is. I know for a fact that we're going to race qrtr mile and I think thats where he thinks he's going to get me is off the line. Little does he know that I'm currently looking for BFG Drag Radials
So if anyone knows the best place to order a set, please let me know.......
My car is also going back on the dyno within the next couple weeks because the car is running rich. It put down 342hp to the wheels so hopefully it will put down a few more HP after I get my chip recalibrated to run leaner. I'm also putting new MSD wires and new plugs in it. I'll should be ready............and I'll have pics when the day arrives.
If I lose I will throw rocks at my car...........
Jay