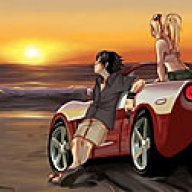 Site Administrator
Staff member
Administrator
Joined

Sep 16, 2000
Messages

13,886
Location
Corvette

1990 Corvette ZR-1
Yesterday I had to run up to the Dulles Town Center Mall to pickup some accessories for a new Craftsman tool chest I bought. Weather here in the DC-Metro area yesterday was fair, but I didn' take the Vette out because the snow and ice we've had all week was melting and the roads around here were trashed.
A lot of other Vette obviously felt differently as there were a ton of Vettes out. (Even got to watch a good race between a C5 and 4 kids in a bright yellow Mustang
)
When I left the mall, I drove around the back of it to pick up the main road heading back. As I was driving on the road that runs at the end of the parking lot, I happened to look into the parking lot and the electric blue paint and characteristic blackened wheels caught my eye. I did a double take and realized, it was a Grand Sport. Needless to say, I kept looking trying to get a better view as it was parked at the end of the parking lot. The road suddenly turned, but I wasn't.
Luckily my reflexes were quick enough that I kept the truck on the road.
I really do love that color scheme. One of these days, I'll get a GS with torch red interior.
[Edited by Rob on 01-29-2001 at 07:19 AM]