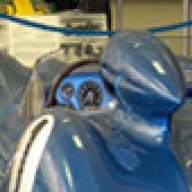 Well-known member
Administrator
Joined

Nov 9, 2000
Messages

7,304
Location
Corvette

1959 black 270hp (9/2/69) 1981 Beige L81(10/20/80)
Here are some pictures of the Greenwood Sportwagon that is for sale locally for those who have never seen one. This is not a Greenwood built car but one built from the Greenwood kit. These were somewhat popular in the middle 1970s but dissappeared rather quickly once the fastback roof was introduced in 1978.
It is a 1973 small block automatic. The interior is in very nice condition with the exception of the cracked park brake console. The seats are dated with their red velour centers as is the rear floor and side panels done in short shag carpet. Before you go

remember that this was the height of the custom van craze and everything was being upolstered like this at the time. The frame is very clean and rust free. The paint appears, as does the rest of the car, to have been top quality show work at the time it was done. Unfortunately, it is bubbling and lifting in spots. Obviously this car has been stored indoors with very little use over the years. I didn't get to talk to the owner so I have no idea as to it's mechanical condition.
Most people don't like these anymore but, as I said in my May column,
"Restored To What"
this car is a part of Corvette history and deserves to be restored to it's original glory as modified. I hope someone steps up to the task.
Tom