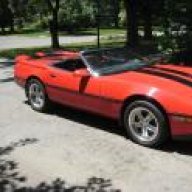 Joined

Aug 31, 2005
Messages

88
Location
Corvette

1989 406
I had posted on here a few months back about coming across my father's 1989 convertible Vette about fifteen years later. At the time it was a super car, it was supercharged, roller rockers, great exhaust, fuel pump, 3:73 Dana 44 etc. Car went 12.19 on street tires.
When I was debating on whether or not to buy it, I decided against it due to the condition it seemed it was in. I was told a few different stories about how one of the injectors leaked and burnt a hole in one of the pistons and that is why you could see where the engine was taken apart. The supercharger was bad also only running about 4 PSI.
I know it was the right call not to buy it, but I keep coming up with that if I were to buy a C4 now, I would never have the money it took (about 10K, in 1989) to get one to that performance by today standards. I keep thinking to myself that if I could have had the supercharger fixed and maybe what ever else was wrong with it, it would have been maybe a few grand and have a pretty solid car. Obviously I do not know the extent of what was wrong.
Also is anyone familiar with the Greg Carroll set up? I was told by a local Vette shop, his cars were always in and that is why he changed the name of his company.
I would like to hear people's thoughts.
Thank you.