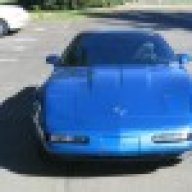 Joined

Jul 23, 2003
Messages

63
Location
Corvette

Quazar Blue 92
Well Merry Christmas to me. My baby will not start this afternoon. She turns over fine but won't start. Here is a list (yea it's a list) of symptoms:
Flashing Service Engine soon light
A clicking sound (like a relay) from under the dash, sounds like just to the right of center.
Flashing Security light
Flashing SYS light on the Speedo: flashes 3 times then displays a LO
Service ABS light stays on as well
Over the last couple of weeks while driving I have had all of the same indications happen as well as a sudden miss but never had a no start or the ckicking sound and they always reset when the car was turned off. I wasn't able to get into a shop until after the Christmas Season but now it l guess I don't have much of a choice unless I can figure it out with your help.
I read some of the other posts about some of the same conditions but my Battery is less than a year old, my aftermarket stereo has been installed for over two years and the guy was experianced with installing in Corvettes. I also didn't see any threads about the LO on the speedo. Sorry if this is rehashing old stuff.
Thanks for any advice you can give.
God Bless those in the Military during this Holiday Season..........