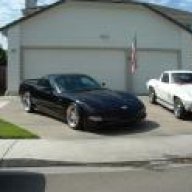 Joined

Oct 28, 2005
Messages

517
Location
Corvette

03 Z06,66 coupe(sold),99 Porsche Carrera(sold)
I need help with suspension squeaks. They seem to be getting worse every week. Both front and rear ends.

It started off with just minor squeaks. I sprayed silicone lube on ALL the bushings I could find that might be the culprit. About a week after lubing the bushings the squeaks appeared to get louder. Now they're as loud as ever and it's embarrassing. I don't know if anyone can hear them from the outside.

I just lowered the car using the stock bolts but the squeaks were there before this was done.

Any suggestions on fixing this problem other than just not driving the car?