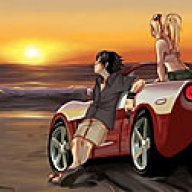 Site Administrator
Staff member
Administrator
Joined

Sep 16, 2000
Messages

13,780
Location
Corvette

1990 Corvette ZR-1
He's waited a lifetime for this joyride
By TONY HOLT
[FONT=arial, helvetica]
wholt@hernandotoday.com
[/FONT]
[FONT=arial, helvetica]
Published: May 20, 2007, Hernando County, FL
[/FONT]
[FONT=arial, helvetica][/FONT]
SPRING HILL — Wayne Withrow suffered from Corvette envy for 34 years. Whenever his fellow Vette enthusiast pulled up in his 1966 Big Block Coupe at the monthly Spring Hill Drifters Drive-In, Withrow was there to greet him as soon as he parked.
During Thursday's drive-in at Coastal Way, the 64-year-old retiree took his time scanning the row of five sparkling, classic Corvettes parked in front of the Chick-fil-A, where many of the Drifters migrate.
One was a 1967 bright yellow Kingray that had made the pages of Corvette Enthusiast magazine.
Withrow has had a Vette of his own — a horizon-blue 1960 convertible — for almost 40 years. During most of that time, the car has been rusting and rotting under a tarp and the engine lay in pieces in a cardboard box.
On Thursday, it was covered by a tarp, hidden from its owner. Shortly before 7 p.m., it was uncovered and shown to an awe-struck Withrow, who was expecting to see it for the first time Friday — his 65th birthday.
"I can't believe this after all these years," he said minutes after turning the ignition and revving the engine for the first time since the early '70s.
One of the men who helped Withrow live out his dream, the one with the '66 Big Block, met him in August and agreed to put the car together in his shop. John Ames, who owns J & M Enterprizes, popped open the hood, which hinges at the front of the car, seconds before Withrow turned the ignition.
The hood pointed straight up as Withrow turned the key clockwise once. Knowing it needed more gas, he turned it once more, held it for an extra second and depressed the gas pedal. The roar was unmistakable.
At that instant, Withrow was the most popular man at the drive-in. After months of drooling over other people's Corvettes, it was the other Drifters this time who were circling around to see Withrow's pride and joy.
Deathbed wish
Withrow's convertible remained parked behind his dad's garage for years.
The elder Withrow felt helpless as he watched the squirrels gnawing away at it and seeing layers of rust build up along the chrome. The engine went from a shiny example of engineering brilliance to a hunk of stationary scrap.
His son was working for the Department of Defense and living in England at the time.
The car itself was covered with a rotting tarp and was set on top of blocks.
Before long, the interior was gone. All that was left was a shell.
Some time ago, Withrow's father grew ill. His son visited him in the hospital and thoughts of the Corvette came into his dad's head.
"He wanted me to get the car done," Withrow said Thursday. "He said to me, 'Get the car fixed, boy.'"
Withrow's daughter, Demi Collins, 34, was at the car show with her husband, Scott, and their 10-year-old daughter, Erin.
Collins was 8 years old the last time she sat in the passenger seat and took a ride with her dad in the Corvette.
On Thursday, she sat in the car and let her daughter sit behind the wheel. It was an endearing sight for Withrow. It was both surreal and emotional for Collins.
"It means a lot," Collins said as she brought her trembling hand to her face. "This has been my dad's dream. I'm thrilled I could be here."
Her husband, who was looking at the row of Corvettes with his father-in-law before making their way to the north end of the parking lot, also knew how much it meant for Withrow to slide into those leather seats and turn on the engine.
"This car looks a lot better without lawn chairs stacked on top if it," he joked as he stood in front of convertible and stared at the glistening chrome bumper. "This really embodies his youth. This is a 40-year-old dream he's had."
The mechanics behind the dream
John Ames and his son, Tim, worked tirelessly on the car since last fall at their shop.
Ames is the owner of J & M Enterprizes, located at 28363 Cortez Blvd., a few miles west of Ridge Manor. He, his son, and mechanic Skip Farrell replaced virtually every nut and bolt on the car. They replaced the chrome, fixed the original engine, painted over the bare fiberglass and attached the newest parts.
Ames met Withrow for the first time in August, after the latter met Ames' wife at a Drifters car show.
Withrow told her the story of his Corvette, at which time she told him, "Yeah, my husband kind of messes with them," Ames said.
Ames eagerly agreed to turn the dingy shell into a shiny, roaring machine again. That has been his business for the past 23 years.
Today, Ames works mostly on Corvettes and attracts customers from across the country — Delaware, Arkansas, Texas and California.
Withrow supplied the interior, which he purchased little-by-little at Corvette shows in Carlisle, Pa., Ames said.
The owner showed the mechanics a four-by-four photograph when he brought in the car. It was a picture of how the car looked soon after he purchased it in January 1968 in Pasadena, Calif.
"This is how it looked when I bought it … This is how I want it to look when you're finished," he told Ames.
As he waited for Withrow to arrive at the show, Tim Ames pointed at a row of cars parked near the entrance to Chick-fil-A. Five of them were Corvettes, one was an old Toyota jeep and the last one was his own car — a 1972 Chevrolet Chevelle.
He put his hands on all of them. Each one entered the J & M garage rusted and dented (or even smashed) and they all came out looking brand new.
That is what Withrow imagined whenever he watched John Ames pull into the parking lot during the last few car shows in his '66 Big Block.
"He practically opens the door for him after he pulls up," joked Farrell, who also attended Thursday's unveiling.
Early birthday
When Withrow took the car to Ames' shop, he told him he wanted it in time for his 65th birthday, which was Friday.
"Back then I thought, 'Oh yeah, no problem,'" Ames recalled. "But in the last month, man …"
He, his son and Farrell were under the gun for several reasons, but mostly because Withrow's wife would not allow her husband to see the car during the month leading up to his birthday.
"Sometimes, especially with the final details, you have to talk it over with the customer," John Ames said. "We couldn't do that."
The body was put on the frame 45 days prior to Thursday's car show. A lot had to be done, including the installation of the new interior and chrome replacement. Those are the kinds of details the customer wants to approve. Withrow had to put his faith in his mechanics. Judging by his reaction Thursday, he was more than satisfied.
Withrow was expecting the car Friday. He arrive Thursday at Coastal Way unaware of what his family had planned.
Ed Matrone, vice president of the Spring Hill Drifters, handed Withrow a raffle ticket, one with a specific number. He called the winning ticket a few minutes later.
Withrow was gleeful. He had no idea what he was about to win, but knowing he was one day away from seeing his car, he relished his lucky streak.
He sported a wide smile and waved the ticket over his head before strolling 50 feet toward Matrone, who was a few steps in front of a tarp-covered convertible.
Matrone handed him a J & M Enterprizes T-shirt.
"Wait a minute," Matrone said. "I think we got something else for you."
The tarp was pulled off and Withrow soaked in the sight of his horizon blue convertible — a gratifying image he had not seen in more than 34 years.
"I first saw it in 1967 in Pasadena," Withrow said, after he shook hands with John and Tim Ames and started the engine for the first time. "I had it in boxes … I brought it with me when I moved to Maryland."
The proud birthday boy randomly spouted out historical facts about the car. It was obvious he had a lot on his mind. He was coming to grips with the realization that his dream had been fulfilled.
"This thing had 126,000 miles on it," he said, still smiling and shaking his head.
The newly replaced odometer showed two miles, driven by Ames. The car was reborn.
The next 126,000 miles all will be Withrow's.
Reporter Tony Holt can be contacted at 352-544-5283.