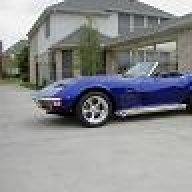 Joined

Nov 21, 2003
Messages

276
Location
Corvette

71 Kandy Burple Conv / 02 MY Z06
Today is not my day. I've read all of Lars' papers on tuning, timing, valve lash, etc. You've all given me good advice. I still can't get my new YearOne crate motor tuned to save my life. I've concluded I must not be able to follow simple directions and that I'm a hopeless basket case.
Either that or I'm just missing something and someone here will shed light on my problems or give me a better approach at fixing my problems. I'm writing this post to give you all the details and beg for help; lots and lots of help.
Here are the motor specs...
YearOne Crate - 355 SBC
·Horsepower- 416
·Torque- 426
·Compression ratio- 9.5:1
·Vacuum produced: 12hg @ 800RPM
·Recommended fuel- 92 octane
·Max recommended RPM- 6000
·Block- Seasoned 4-bolt iron
·Crankshaft- Nodular iron
·Pistons- Hypereutectic
·Connecting rods- Powdered metal
·Camshaft- Hydraulic roller
·Valve lift:.520"
·Duration @ .050" (int/exh): 218deg/228deg
·Rocker arms- 1.6:1 ratio - Stamped
·Cylinder heads- Ported Vortec
·Valves- Stainless steel 2.02 int/1.60 exh
·Valve springs: Heavy duty
·Bore x Stroke- 4.030" x 3.48"
·Intake manifold- Dual-plane aluminum (Professional Products - Cyclone)
·Engine fasteners: High tensile strength
Carb - Speed Demon 650 - Mechanical Secondary - No Choke
Distributor - ProComp HEI, Vacuum Advance, Tach Drive
My first problem was in this post.
http://forums.corvetteforum.com/showthread.php?t=1522736
I called YearOne and they said must be a catastrophic valve train failure. I'm not there yet. Noisy rockers can be a minor issue. I called Hi-Tech (the engine builder) directly and they said the noise was normal due to the cam profile. Said even the hydraulic roller lifters wouldn't eliminate the noise. Suggested I adjust the lash to make myself comfortable there wasn't a problem. Spec 1/2 turn after 0 lash. I used Lars' 90 degrees at a time instructions and it works fine. None of the rockers seemed out of spec after all this but at least I know now. After the motor started it seemed quieter at first but then the noise came back. I think this is just the way this motor sounds but if you have the same motor and don't hear anything when your head is under the hood please pipe in.
Timing - Steps Taken
I adjusted the timing per Lars' instructions as well. Results are as follows:
Static Timing 18 degrees - 600 RPM
Total Timing with Mechanical Advance at 2900 RPM- 36 degrees (motor calls for 38 but I backed off for safety right now)
Total Timing at idle with Vacuum Advance - 38 degrees (used MityVac to get all the vacuum timing in at idle for tuning). The vacuum can is an adjustable can on a ProComp HEI Tach Drive distributor. They told me it only brings in 18 degrees but the timing light is saying 20. They told me I could adjust the vacuum thresholds by using an allen wrench down the throat of the can to change the specs. I did this but all I noticed was a change in how much advance I could pull in not when. Right now it comes in at 6 in Hg and all the way in at 15-16 in Hg. My motor only makes 12 in Hg at 800 RPM.
If anyone can tell me how to adjust this "adjustable" vacuum can so it comes all in at 10 in Hg please let me know. If it's not possible with these cans then I need to change the can to one of the ones Lars has in his paper.
Right now I think the timing is on the mark. I just need to get the vacuum can right. I'm using full manifold vacuum. Ported Vacuum is the wrong answer from all the papers I've read.
Speed Demon Carb Adjustment
I'm in my own personal living hell getting the carb adjusted. I'm looking for advice on how to get a 650 Speed Demon, with Idle Eze, and Mech Secondaries tuned in on this motor. Specifically I'm looking for advice that does not include comments like "Buy a Holley, QJet, Throw it Out, etc." I think this is a fine carb and the issue is with my tuning not the carb. I could be wrong but I'm willing to be it's a human error at this point.
I've seen responses from a forum member that works for BG in the past. I can't call their tech line during the week because I work. I adjust the carb on the weekend when they're closed. Go figure.
Here is how I adjusted the carb, the problems I'm having, the troubleshooting advice from BG website, and my further adjustments, all of which have not worked.
Carb Baseline Setup - This morning I pulled the carb off the car and started over with these settings.
Primary Butterfly open to expose .020 in of transfer slot (used feeler gauge)
Secondary Butterfly open .020 (later realized this was wrong after it was on the car)
Mixture Screws all turned out 2 1/2 turns at all four corners.
Idle-Eze turned out 1 1/2 turns
Float levels right at to slightly under 1/2 of the glass (middle mark)
Started car, set timing, car at temp, vacuum all the way in via MityVac.
Set idle via Idle-Eze screw to 800 RPM
Idle very very rich, makes your eyes burn
Progressed around car 1/4 turn in on mixture screws (all four)
Repeat, Repeat, etc until idle was up to 1100 and exhaust no longer burned eyes. Vacuum at 12 in Hg no matter where the setting.
Adjusted idle back down to 800 via turn in on Idle Eze screw.
Took car for ride around the block. Had several problems. The problems, suggested fix from BG troubleshooting guide, and changes I made are as follows:
Car surges at idle to light throttle (I'm assuming this is my vacuum can and it needs to be adjusted or replaced)
Car stumbles under light acceleration - BG - Open Mixture, Readjust Butterfly (no indication which way) Raise float.
Came around corner and stepped on Gas - Thwack thwack - backfire through passenger exhaust. - BG - Lower float level, decrease fuel pressure, decrease jet size, readjust both butterfly valves.
Slowed down turned corner slight gas - POP - Small backfire through carb. - BG - Open mixture, increase squirter, increase jet, raise float.
Pulled into driveway and made adjustments. Adjustments that disagreed I figured canceled each other out and were not the problem. For example you can't both raise and lower the float level.
At this point I realized that I set the secondary butterfly at .020 in. In the book it said to cover the transfer slot for motors that idle under 1000 rpm. I backed off on the secondary idle screw enough so that it would cover the rest of the slot but not so much that it was completely closed.
Float level - left alone.
Mixture screws. They were all 1 turn out. I turned them back to 1 1/2 turns out.
Rev'd the engine a few times and POOF! Big fireball out of carb. I'm lucky that I kept my face away from the carb or I'd have been in big trouble. As it was the flash scared the heck out of me and blinded me for a few seconds.
So what's left? Fuel Delivery
Based on the suggestions in BG's trouble shooting guide it could be a fuel delivery problem, or rather too much fuel delivery.
The fuel pump is a Jegs hi flow mechanical pump. I don't have a return line connected. In addition, I don't have a pressure regulator or fuel pressure gauge.
The reason I don't have the regulator is I couldn't figure out how/where to plumb it with the limited space I have. Here's a pic.
I didn't get a fuel pressure gauge because every other post I saw stated that these don't work very well under the hood and that they were a waste. Either way I figured they were more important for high revs and that I would be more likely to suffer from fuel starvation than too much pressure. I'm not convinced the regulator is going to solve anything but I need to put one on now to eliminate it from the mix. I'm also going to find some kind of fuel pressure gauge to take that off the list as well.
After the big backfire through the carb I shut her down and put her back in the garage. I'm pretty

ad ticked off right now. Between bad weather, less daylight, business travel, etc. I've been messing around with this tune for a month. I need to get it stable so I can get the car in for paint before it gets too cold. Any and all help will be appreciated.
Thanks in advance and sorry for the long post. When you reply it would be good if you break it down to.
Adjustable Vacuum Can - How to or get a new one.
Timing - General comments
Carb mixture - Carb settings
Fuel Pressure/Regulator - Parts suggestions and comments on if this is likely the real problem or not.
Whiplash