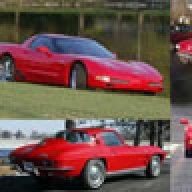 Joined

Oct 11, 2003
Messages

1,895
Location
Corvette

15 Z06, 01 Vert, 63 SWC & 60 ALL RED
Ok, so this is a bit off the wall. But then haven't we all been a bit off the wall. At any rate, as most of you know I have a 1960 Corvette that I redid. I entered it into a 2011 Corvette Calendar Contest and I made the final round of voting. Right now I am in third place, but a number of cars have gotten numerous votes the past 24 hours. Voting ends on Monday at 1:00am CST, so there is still time for them to overtake me.
If you would be so kind to vote for my car as well as pass along to your friends to also vote that would be great. Here is the link to the site:
MemberCalendars.com :: Officially Licensed 2011 Car and Truck Calendars Featuring Popular Chevrolet, Pontiac, Cadillac, Saturn, Hummer, GMC, Ford and Dodge Vehicles.
Near the top is a link to click on that says "click here to get started now"
click on that and then follow the directions to register. I am sorry if this is a bit of a PIA, but I would like your votes…..you can vote 5 times per registration. Some of my friends have signed up and had a problem…so a hint…for user name DO NOT PUT DOWN YOUR EMAIL ADDRESS, it is too long! Put down a nick name or something…..
here is the photo that I submitted to them for the calendar……when you get to the photo page it will say something like submittal of photos has ended, scroll down and look for it near the bottom of the photos
Each registered voter can vote 5 times….thank you!!!