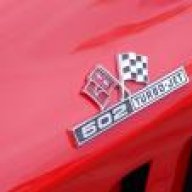 Joined

May 28, 2004
Messages

2,410
Location
Corvette

65 BB 502 Cp /MSD ATOMIC EFI/ 2009-HUMMER H2
Some of you here on the forum have heard me complain of the quailty and operational effectiveness of the Holly 850CFM Carb on my 502. The problem being the Vacuum Secondaries that seem to take forever to open after you drop your "Big Foot" on the go pedal.
Of course Holly says ..heh by our $50.00 Removeable Vacuum Secondary Chamber and Spring kit and just tune the secondary opening where you like it. Well..that crapy kit didn't work according to the directions and did not do what it says it will do. Not to mention the miss -information on the web site Vs the instructions that come with the kit.
Spoke to Holly on the phone and Bubba says.."Gee..well hot dam.. that should a done that there trick...
BS..!!
. Don't know what else to tell you... see yah..Click..!!
At Carlisle I spoke with 67Heaven and Gerry who agreed that there is something wrong here. Both of these guys can smoke the tires on a roll in first gear at 5 MPH. If I try that..she just digs in and goes...and somewhere around 3 grand starts to go like hell.
The Advance map is right on and every thing else is rock solid. I have been told to cut the secondary spring as well as other tings that the Holly manual tells you not to do. As far as I'm concerened.. I have a defective carb. I have checked the vacuum passages and made sure there are no leaks. I think this carb is just F_ _Ked Up..!!
Even 67Heaven found what looked like 4 0z's of
Cocane
inside his Holly carb when he was getting ready to insatll it. Lucky he caught it. Of course it wasn't Cocain ...but looked like it.
Now..alot of you I know run holly's..and have explained to me in a previous thread that they are good carbs. Ok... Fine that's all well and good. But As far as I'm Concerened...Farg em..
I spoke with Barry Grant and I have selected a new BG Carb which I Ordered to day...
Choke.. I don't need no Stinken Choke..!!.. Vacuum Secondaries...I don't need no Stinken Vacuum Secondaries....I'm runnen Mechanical Secondaries..
After going thru a detailed discription of my Corvette covering almost every thing about my motor and drive line with BG...this is what he recommended..
http://www.barrygrant.com/demon/default.aspx?page=14
They suggested stepping down to a 750 CFM from The Holly 850 for better performance and torque in the steet range. This model will flow 1050CFM Wet.
The link shown is ther new series..check out the new easy adjustment thru the center of the carb.
No more crappy Holly...Just throw money at it till you fix it...