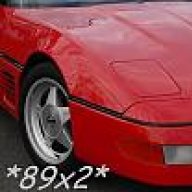 Joined

Feb 18, 2002
Messages

10,357
Location
If you could only own one of these amazing automobiles, which Callaway would it be??
Would it be an original 1987 w/ NACA ducts? An AeroBody 1989 or a 91 w/ the hood scoops?? How about a SuperNatural or LeMans racer??
The special cars like the Sledgehammer or TT ZR1, the Speedsters or IMSA B2K racer... An exotic C12, a Power Group car or one of the new C6 based cars?
...maybe it isn't a Callaway Corvette, but rather another model like a C8 or C9, etc.
For me, it is a tough choice! :eek
I have loved so many of these cars - The C 3 6 is one of my favorites :cool The Speedsters are classics and the C12's are like drving your own road show :cool
In the end though, I fell in love with and would keep my 1989 B2K AeroBody :cool
What is your choice, if you could only have ONE :confused