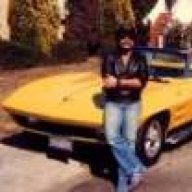 Joined

May 1, 2002
Messages

80
Location
Corvette

1963 Convertible 327/300 3TL
Hello folks,

I just purchased a Motive Products PowerBleeder tool, and I'm ready to do the brakes on my 63.

All of the brake components are brand new, from the master cylinder to the lines to the wheel cylinders. Do I still have to bench bleed the MC, or can I just bolt it up to the firewall and bleed the MC as part of the system?

Also, what is the proper sequence at the wheels? Do I start bleeding at the nearest (LF) or at the farthest (RR) from the MC?

Thanks in advance!