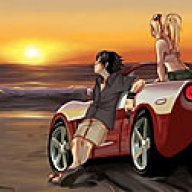 Site Administrator
Staff member
Administrator
Joined

Sep 16, 2000
Messages

13,758
Location
Corvette

1990 Corvette ZR-1
2015 Chevrolet Corvette Stingray Z51 Long-Term Update 3
New Perspectives on Our Long-Term 'Vette
by Christian Seabaugh Words, Motor Trend Staff Photos
December 25, 2015
I sadly haven't been spending as much time in our long-term 2015 Chevrolet Corvette Stingray Z51 as I'd like. Between traveling, family vacations, and being away on comparison tests, I've spent far more time the past couple months driving everything but the Corvette. Thankfully it doesn't sit idle while I gallivant around the globe. In my absence, associate editor Benson Kong and associate online editor Jason Udy have slid into the Stingray's saddle. Here's what they have to say:
Kong:
Preamble: Not only was this my first time in a Corvette since the Z06 from 2011 Best Driver's Car, but this was also my first time in a C7 for an extended period of time. Amazing!
I'm sure this has been written about extensively, but what a great interior. Out of all the BDC contenders from 2011, I spent the second-most time with the Z06, which was, in hindsight and to put it kindly, tolerable. The C7 is such a big step up. The Corvette is now an even more aspirational midlife crisis mobile, having shed a bit of that "divorced uncle's hot new sports car" feel to the cabin. The misaligned driver's side map light switch and targa creaking [I'll have the dealer address that when I bring the Corvette in for service. – Seabaugh] never stopped reminding me of its humble roots.
The Corvette is super easy to drive around town and in traffic. The transmission likes a bit of warming up in the early morning and the shifter is noticeably easier to work than the one in the last Z06, especially in higher gears. I had trouble with the 1-2 shift occasionally, partly because of the irregular 1-4 skip-shift and partly because I just couldn't hit the gate sometimes for whatever reason. Touring mode steering is very relaxed. In general, the car's behavior is extremely submissive, even though the outer appearance is highly aggressive. The driver H-point is half an inch too high, likely to enable drivers to take advantage of the generous view out of the windshield.
The biggest difference to me from C6 to C7 is the big reduction in engine and driveline heat radiating into the cabin … unless the car is driven hard. When driven normally, the heat buildup resistance is great, which is ideal for me because I don't like heat or hot weather. When driven on a mountain road, the cabin gets as hot as I remember the Z06 being, and it seems to take a while to cool back down. Of course, it gets especially warm in the concealed compartments — the cubby behind the center screen and the center armrest bin — which is also where the USB ports are and hence where your phones are getting zapped by both electricity and accumulating heat.
Full Story:
2015 Chevrolet Corvette Stingray Z51 Long-Term Update 3