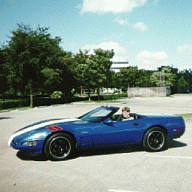 Joined

Apr 16, 2002
Messages

48
Location
Corvette

1996 Grand Sport convertible, 2003 red coupe
I decided buying an electron blue coupe with manual transmission. The nearest dealer had one last week but the salesman said it was sold yesterday. He did a search and found two others he can have delivered, the print out said one was $45G+ and the other at $47G+ with a lot more options. *cough* I had looked at the stickers of the others in stock last week, none were over $43G. So, my guess he inflated the prices by $3G. I didn't want the dual roofs, he said they'll buy back the clear panel for $900. He mentioned the price of the 12-cd remote changer at $800, I said one can buy one a lot cheaper (I didn't know that, but I do know dealers overcharge for stereo equipment; later I did a search online and found remote cd changers for $200), he said you cannot get one that plugs into a Delco radio. I gave him the look that said "you're full of crap" but I didn't say anything.
So I mulled it over, remembering that a dealer in Atlanta emailed me an offer of $4G off any in stock so I figured a local dealer might do the same, and offered my '98 green coupe + $20G for the $47G. Yes, a low offer but the highest I was going to go (Kelly's Blue Book price said mine was $20G to a dealer, $24G resale). The $20G was more than I was going to originally offer but that was for a 'vette without the full package. So he did the paperwork and came back with the $20G offer on mine but did not make any reduction in price except for the GM rebate. Not even a counter.
I walked. :nono
So, I'm going to call a few other local dealers but I'm keeping that Atlanta dealer in mind. (you listening? pay my airfare if I come pick it up?
hmmm, Florida has this out-of-state new-car tax/license-fee now)
Oh yeah, the salesman said I should be wary of "those" dealers. Yeah, I'm thinking, they take away your business because you're scum.

I suppose he's used to Corvette buyers to just come in and plop down the money without question, with our overabundance of lawyers, doctors, and drug dealers (did he really just say that?
). And today is Wed, the day doctors are off work and maybe car shopping if not on the golf course.
Btw, I'm neither of those.
Glen
P.S. What are good radios and cd changers for a 'vette? (email me).