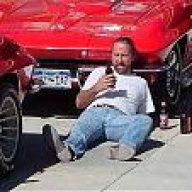 Joined

Feb 15, 2003
Messages

209
Location
Corvette

64 Black Roadster; 85 Coupe; 09 G8 GT 4-door Vette
I'm wanting to upgrade my '64 Vette to be more like a European Sports Car, and what better way to do that than to install a 4-cylinder engine!
The 496-horse engine is just too much, and flaunts the American excess that the World hates us for. We should be more sensitive to other Nations' feelings. My 4-cylinder swap is a good international gesture in this direction, and will give the car that International Sports Car sound and feel.
So I've pulled out the ridiculous V8 and I'm ready to drop in a 2000 cc SOHC Split Port engine from a Ford Escort. The 2-liter engine is the same length as the small block Chevy, and a slightly lower profile. It also has fuel injection, which is very sporty and efficient. The lower profile will allow me to get rid of the ugly hood I have with that big bulge in the middle, and the FI system will allow me to legitimately install the "Fuel Injection" badges on the sides of my fenders. The lower weight will give me almost perfect 50/50 weight distribution. The exhaust coming out the one side of the engine will be an easy hookup to the driver's side sidepipe. With 96 horsepower, I figure the Vette will run almost as good as an old Miata.
Here's the small block out of the car compared to the much nicer and more modern Overhead Cam Injected Split Port:
The Split Port 2000 should be an easy swap if I can figure out some small details:
My questions are:
Should I install the engine fore-and-aft for rear wheel drive? If so, does anyone make a transmission for this engine for installation in a Vette with rear wheel drive? Can I attach the front/rear engine mounts to the radiator support and the firewall?

I can use the stock transmission and convert the Vette to front wheel drive. Is there a conversion kit to do the front drive conversion on a '64 with drum brakes?

Should I leave both sidepipes on the car, or should I remove the passenger side pipe?
Some opinion and guidance would be appreciated. I'm going to start by cutting the #1 crossmember out of the car so I can install the engine from the bottom – like engines should be installed.